News
Sam Brown at Aurora Theatre
March 12, 2014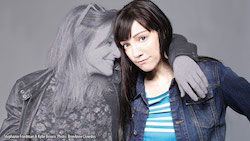 Georgia's Aurora Theatre presents The Unauthorized Autobiography of Samantha Brown!
Featuring Kylie Brown, Stephanie Friedman, Chris Damiano, Wendy Melkonian, and Jeremiah Parker Hobbs, the production is directed by Justin Anderson with music direction by Ann-Carol Pence and choreography by Becca Potter.
Performances begin on March 13 and conclude on April 6. Sam Brown runs Wednesdays through Saturdays at 8pm as well as Saturdays and Sundays at 2:30pm.
For tickets and more information about the show, visit Aurora's website.