News
First Immersive Workshop of The Bad Years
January 22, 2015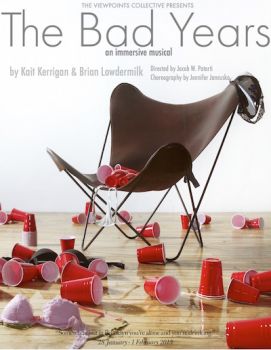 The Viewpoints Collective presents the first immersive workshop of The Bad Years!
Join us for a work-in-progress presentation of The Bad Years, New York's first truly immersive musical theatre experience. Set at a house party, The Bad Years follows a cast of twenty-somethings as they flirt, fight, and flip-cup their way into adulthood. As party guests, audiences choose their own paths through the night as the musical happens around and includes them. The production is directed by Jacob W. Patorti and choreographed by Jennifer Jancuska.
Performance schedule:
Wednesday, January 28 at 8pm
Thursday, January 29 at 8pm
Friday, January 30 at 8pm
Saturday, January 31 at 7pm and 11pm
Sunday, February 1 at 8pm
All performances will take place at Loft172, located at 172 Classon Avenue in Brooklyn. For tickets and more information, visit The Viewpoints Collective.