News
Kerrigan-Lowdermilk Head to the Rhinebeck Writers Retreat This Summer
May 28, 2013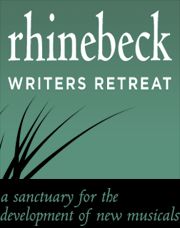 Kathy Evans, Founder and Executive Director, announced the nine musicals and eighteen writers selected for the third summer of the Rhinebeck Writers Retreat. For nine consecutive weeks beginning June 23rd, each writing team will have an individual weeklong residency in Rhinebeck, New York to write their musical. All costs are fully funded by donors including The ASCAP Foundation, The Dramatists Guild Fund, and The Noël Coward Foundation. Writers include Tony-winners and nominees Duncan Sheik (Spring Awakening), and Heidi Rodewald and Stew (Passing Strange), and multi-award winners Adam Gwon, Laura Harrington, Joe Iconis, Kait Kerrigan, and Bree Lowdermilk.
A panel that reviewed over 90 submissions selected the participants. Panelists included Mara Isaacs (McCarter Theatre), Donna Lynn Hilton (Goodspeed Musicals), and Kent Nicholson (Playwrights Horizons). The complete line-up for the summer and the contributors supporting each week are:
· June 23 - 30: Timothy Huang; Peter and the Wall, underwritten by The Dramatists Guild Fund
· June 30 - July 7: Kait Kerrigan and Bree Lowdermilk, Unbound, underwritten by The ASCAP Foundation
· July 7 - 14: Joe Iconis, Jason Williams, and Lance Rubin, Annie Golden, Bounty Hunter, Yo!, underwritten by Jeff Zadroga, in honor of Frederick Adams Farrar II
· July 14 - 21: Rob Shapiro, Catch, underwritten by Alec Stais and Elissa Burke
· July 21 - 28: Jenny Giering, Laura Harrington, and Adam Gwon, Alice Bliss, underwritten by Stacey Mindich Productions
· July 28 - August 4: Stew and Heidi Rodewald, Family Album, underwritten by Bree Hargrove and David Hyde Pierce
· August 4 - 11: Patricia Cotter and Lori Scarlett; Ladykillers, underwritten in part by Peter Risafi and Rick Farrar
· August 11 - 17: Will Reynolds and Eric Price; Radioactive, underwritten by The Noël Coward Foundation.
· August 17 - 25: Kyle Jarrow and Duncan Sheik, Noir, underwritten by Stacey Mindich Productions
Created in 2011 by Kathy Evans, the Rhinebeck Writers Retreat is a 501(c)(3) not-for-profit organization whose mission is to provide a sanctuary for musical theatre writers to develop their musicals in the heart of the Hudson Valley. Several musicals developed in the first two years are receiving productions this summer: Nobody Loves You, by Itamar Moses and Gaby Alter, at Second Stage Theatre; Love's Labour's Lost, by Michael Friedman and Alex Timbers, at The Public Theater's Free Shakespeare in The Park; The Last Queen of Canaan, by Rebekah Melocik and Jacob Yandura, at the Yale Institute for Music Theatre; and two at The Eugene O'Neill National Music Theater Conference - Broadcast, by Scott Murphy and Nathan Christensen and The Noteworthy Life of Howard Barnes, by Chistopher Dimond and Michael Kooman. Writers pay nothing to participate in Rhinebeck Writers Retreat and all costs are covered by donations. For more information, visit www.rhinebeckwriters.org.