News
Kennedy Center EarthRise Commission Announced
October 3, 2018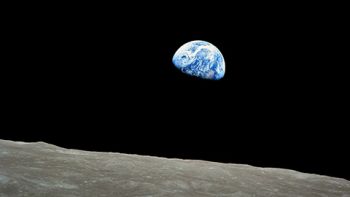 Kait and Bree will be joining Lauren Gunderson in a new STEAM collaboration. We'll be writing songs for Lauren's EARTHRISE commission at the Kennedy Center, announced today as part of the Kennedy Center's Human Journey series, directed by Dawn Monique Williams.
We couldn't be more excited to return to the Kennedy Center, with its devilishly encrypted wifi, and its gorgeous views of the nation's capitol.
EARTH RISE
While the countdown begins for the launch of Apollo 11 in 1969, three children of key NASA employees watch from different perspectives. As the historic flight unfolds, the kids dream a collective dream of looking back from the spaceship on the moon to see a majestic earthrise.

Lauren Gunderson's immersive, original play commemorates the 50th anniversary of the moon landing, featuring music and lyrics by Kait Kerrigan and Bree Lowdermilk. Using projections, songs, and real audio and video footage of astronauts, interviews, and President Kennedy, EARTHRISE captures the breathtaking feat of the first lunar landing. As the kids dream of voyaging to the moon and back, their journey highlights the power of science and new perspectives on one another, Earth, and life.

Most enjoyed by age 5 and up. All patrons, regardless of age, must have a ticket. Tickets on sale for members on February 18th and for the general public on February 27th.
Kait and Bree most recently worked with Lauren Gunderson on a commission of Rosie Revere, Engineer & Friends for Theatreworks USA. Here they are pictured with the author of the series Andrea Beaty.