Shows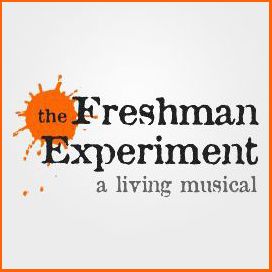 The Freshman Experiment
a living musical
www.thefreshmanexperiment.com
living musical ['liv[ng] 'myü-zi-k&l]
1. a musical based on the lives of living people
2. a musical existing in real time
3. a musical created on the internet by the award-winning writing team Kerrigan and Lowdermilk based on the lives of two young bloggers as they share the story of their freshman years of college.
About:
The Freshman Experiment (commonly nicknamed Fresh X by those in the know) began in March of 2007 when musical theater writers Kait Kerrigan and Bree Lowdermilk were looking for a new project. They wanted to do something that combined all the things they loved – musical theater, unconventional formats, and surfing the web. They also wanted to explore the flip-side of their most recent musical The Unauthorized Autobiography of Samantha Brown. Instead of the fictionalized high school senior Sam who does not go to college, they were interested seeing the inside of the real college freshman experience.

Since they are old and decrepit, they knew that they needed something more than their distant memories of skipping orientation, playing beer pong, and making out in public. They knew they needed real college freshmen. The only questions remaining were who these real college freshmen would be and how they could best document the experience.
After a long and hard search, they found Christine Coke and PosterChild, aspiring bloggers who agreed to write with absolute candor about their separate freshmen years. Their backgrounds and their new schools couldn't be more different but by some weird coincidence the two had met before and were, for a brief period of time, friends. As friends often do, they lost touch, and were not reconnected until The Freshman Experiment began. Once Christine Coke and PosterChild were on board, everything started to fall into place… if by fall into place you mean move painstakingly through legal meetings, the process of finding the right web designer and waiting until all systems were finally go!
Kerrigan and Lowdermilk had no idea what they got themselves into. They didn't know what the end result would be or if there would be an end result. Writing is all about the process and this was their first attempt to let you, readers, in on that process first hand. No more "Which comes first – the words or the music?" You would see that it's a big messy pile of a little bit of both, er, um, it depends, I don't really remember…
Update:
After many successful songs were written about the intrepid freshmen's experiences (including "How to Return Home" and "My Heart Is Split") and after Kerrigan and Lowdermilk finished their personal chronicle of the experience "The Freshman Experiment", they ended the experiment in September of 2008. Christine Coke continues to blog on her own phenomenal site at windowseat.tumblr.com and Kerrigan and Lowdermilk have learned a thing or two about blogging and forums that they're trying to incorporate into their website. While the project has ended, you can go back and reread from the beginning at thefreshmanexperiment.com. You will watch Christine Coke's and PosterChild's freshmen years progress alongside Kerrigan and Lowdermilk. You'll read their postings, the very ones that will inspire new songs before the songs are even written. You'll see video and audio clips of Kerrigan and Lowdermilk songs at their earliest stage. Your comments and ideas will be a part of the project itself. In fact, your participation is continued evolution of the first-ever living musical.
Watch Kait and Bree's Last Video:
Songs from the Show